By Andrey Zarudnev | November 6th, 2009 | 2:51 pm
We have just published a new build 539.
It contains some experimental code to operate with the "hidden memory" that should fix the issues reported in the forum. If you had system freezes with the unmanaged memory use then please retest and report if any issues still there.
New automatic configuration wizard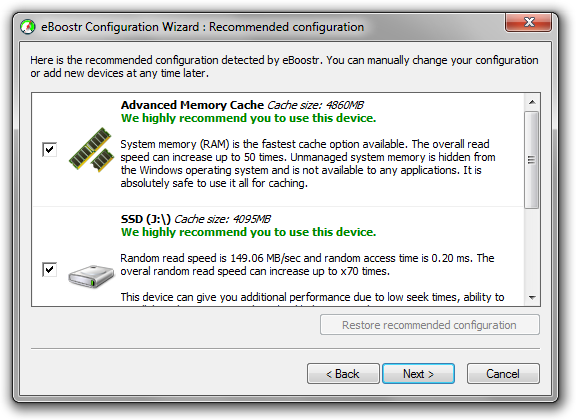 A brand new automatic configuration wizard will thoroughly analyze your devices available, measure their speed characteristics and give recommendations on its use. An old manually configuration dialog box is still present in case you'd like to perform some tweaks or add/remove any device.
Please note! This wizard contains some new experimental code that requires administrative privileges on Windows 7 and Vista. Please make sure to run eBoostr Control Panel as administrator on those operating systems. This requirement will be removed in the next beta versions.
If you have your Beta license expired, please check the following page for an updated one (valid till December 1st):
http://beta.eboostr.com/beta/enable-version/
eBoostr Beta 538 (4346 downloads)